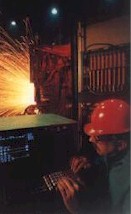 Manufacturing
There's more to precision manufacturing than having the latest equipment. Technology alone won't make it happen. At BK Industry Manufacturing Services, you'll find the most advanced equipment in the industry, but most importantly, you'll discover a team of highly skilled professionals with the experience, talent and pride to make those tools perform to the exact specifications.
Whether you need a single prototype or thousands of flawless units, Bk Industry is a resource that offers more than the tools of the trade. We have the ability to turn your concept into reality, and the expertise to enhance your design or ideas for maximum fabrication efficiency.
Quality Control & Tracking: Job tracking systems and comprehensive quality assurance programs are the keystones to high quality, efficient manufacturing and on-time delivery. That's why we track each job from machine to machine. It allows us to monitor each process and operation to meet the scheduling needs of our customers. Quality inspection, whether visual or using automated equipment to measure critical tolerances, are performed during every phase of production to assure every facet of our product is within the exact specifications of our customerís approved design.
For more information please contact our Manufacturing team at: bkmanuf@bkindustry.com