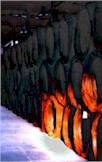 Industrial Wire
BK Industry has achieved a leading position in the industrial wire market through its focus on the delivery of high quality products, at competitive prices. Our capability is to provide low / high carbon wire, bright or galvanized wire, copper and bronze plated steel wire with exact specifications. Our modern facilities and technically competent staff allow us to deliver industrial wire solutions that meet or exceed our customer expectations, with a focus on consistency from coil to coil.
Industrial wire is available in diameters from 0.5 mm to 20 mm and in steel grades from AISI 1004 to AISI 1085. A wide variety of chemical cleaning, coating and heat treatment options are available to develop solutions for nearly any need, no matter how unique they may be.
To ensure leadership in the industrial wire marketplace, BK Industry continues to pursue improvements in manufacturing processes and operating costs in order to establish new standards for the industry and deliver improved value to customers.
For more information please contact our sales team at: bksales@bkindustry.com or click on:[Takestan], [Shirgah] or [Pars]