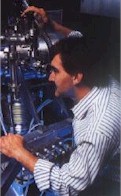 Industrial Machinery
Our Industrial Machinery Sales Department is the leader in the field of new and used wire drawing machines, furnaces, wire knitting machines and wire mesh equipment. We take pride in our total-quality customer service, through which we act as an engineering partner for a wide range of applications. We design and manufacture machine parts, and also perform milling, drilling, tapping, broaching, assembly, light manufacturing, and CNC machining.
Having in-house facilities to provide design and manufacture of industrial parts, we acknowledge that flexibility, creativity, efficiency and quality of products are all important ingredients necessary to satisfy customer demands.
Our technical 'know-how' and expertise, make it possible for us to offer new or used Industrial machinery, manufacture individual parts or prototypes and custom engineer parts for a wide range of applications.
We will strive for continuous improvements throughout our organization along with the acquisition and development of advanced technology enabling us to be a world-class leader in the field of Industrial Machinery.
For more information please contact our sales team at: bksales@bkindustry.com